Game Summaries & Headlines
.
High School OT Weekly Newsletter
It's been a very busy week in high school sports with the NCHSAA announcing new major changes after its spring board meeting, the football regional championships are tonight, there has been news in the legislature, and much more.

What a week this has been in high school sports. We've had major developments from the NCHSAA and the state legislature, the football regional championships will be held tonight, the NFL Draft will likely feature multiple North Carolina players, and the NCHSAA will release softball and girls soccer playoff brackets on Saturday.

The next few weeks should be the peak of the busy season for this school year. Lots of state playoff events are coming up in the next few weeks.

We'll have it all covered for you. The best way to stay up-to-date is through the HighSchoolOT app. Download the app right now if you haven't already!
MAJOR CHANGES FROM THE NCHSAA
The NCHSAA board of directors held its regular spring meeting this week and the board made some big changes, especially in regards to finances and coronavirus pandemic protocols. You can read all about the changes here, but below are some highlights...

💰 FINANCES: The NCHSAA made a huge financial commitment to schools, agreeing to pay for catastrophic insurance for all sanctioned sports and cheerleading, which will amount to annual savings of about $500,000 a year for schools. The board also affirmed the indefinite suspension of endowment games, which means more money will stay with schools.

🦠COVID-19: Effective at 5 p.m. today, the NCHSAA mask mandate for outdoor sports is over, following guidance from NCDHHS released earlier this week. Outdoor athletes, coaches, and officials can still wear masks if they choose to, but it won't be mandatory during competition. Masks are still recommended on the bench if social distancing can't be achieved. In addition, coaches, athletes, and staff members who are fully vaccinated do not have to quarantine after a COVID-19 exposure unless they are symptomatic.

On a related note...

💉Get vaccinated! I've been fully vaccinated for a week now. It's a simple process, and side effects were mild for me. I managed to work through a Friday night of football and Seeding Saturday. If you need help finding a location to get a shot, WRAL.com has a list that is updated daily. If NC can hit 66% of adults vaccinated, perhaps the June state championships can be even more normal. FWIW, Commissioner Que Tucker told me she expects a normal 2021-2022 sports season too!

🎙Press Conference: NCHSAA Commissioner Que Tucker, Board of Directors President Jerry Simmons, and Vice President Bobby Wilkins met with the media on Thursday and answered lots of questions. You can watch a replay of the press conference here.
EXCLUSIVE: LEGISLATORS SEE NCHSAA CHANGES AS A FIRST STEP, STILL HAVE CONCERNS
⚠️ This is information exclusive to HighSchoolOT newsletter subscribers.

After the NCHSAA press conference on Thursday, I reached out to several lawmakers to see if they had a response to the changes announced by the NCHSAA. I heard back from two of them -- Sen. Vickie Sawyer (R-Iredell) and Sen. Todd Johnson (R-Union). The senators were pleased to hear the news out of the NCHSAA, but it won't settle the ongoing legislative investigation. They still have concerns and questions.

Sen. Sawyer called it a a good first step and said she appreciated the NCHSAA looking at how it could be a better partner with schools. "I look forward to hearing more recommendations from them on how they will revise their structure to be more transparent," she said.

Transparency was a key issue discussed at the hearing at the General Assembly earlier this month. Legislators feel the NCHSAA needs better oversight and accountability.

Sen. Johnson's legislative assistant told me the senator plans to review the changes announced by the NCHSAA, but he still has questions.

"He still has more stakeholders to continue speaking with and unresolved issues that merit a thorough legislative review," his assistant said.

It's safe to say the legislative story isn't over. More to come on that.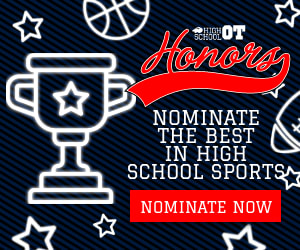 FOOTBALL REGIONAL CHAMPIONSHIPS TONIGHT
By the end of the night, we will know which teams will be playing for football state championships next week. Here's a list of the regional championship matchups tonight. Winners of tonight's games will advance to the state championships.

We've had a bunch of preview coverage this week, and more coming later today. Here are some links: The NCHSAA released the schedule for the football state championships this week too. Games will be played on Thursday, Friday, and Saturday at NC State and UNC.

We'll have statewide coverage of the regional championships tonight. Of course, our live scoreboard will be up too. You can catch it all on HighSchoolOT.com and on the free HighSchoolOT app!
NFL DRAFT UPDATE: TITANS TAKE MAIDEN'S FARLEY
The first round of the NFL Draft is in the books (don't talk to me about the Panthers) and one former North Carolina high school football player has already been drafted.

Former Maiden High School player Caleb Farley was drafted by the Tennessee Titans with the 22nd overall pick. The Virginia Tech corner stands at 6-foot-2 and 197 pounds.

There will be other former North Carolina players who are drafted this week. You can see a full preview here.

Also, check out the video chat Kyle Morton and Joel Bryant had with The Draft Network's Jordan Reid.
TRANSGENDER SPORTS BILL IS DEAD... FOR NOW
The Associated Press broke this story yesterday, but we have also confirmed the reporting.

House Speaker Tim Moore's chief of staff told me the Save Women's Sports Act will not advance through the legislature this year. The bill would have restricted sports participation for transgender students, but Moore's chief of staff said the speaker doesn't see a path forward for the bill to become law. Reading between the lines, if it had passed through the General Assembly, the expectation was that Gov. Roy Cooper would veto it and the Republicans would not have the votes to override the veto.

The wording from Moore is interesting though. He specifically says it won't advance "this year." I asked his chief of staff if this bill could resurface next year, he said Moore's office would not have any further comment at this time.

Moore did tell the AP that he doesn't think this bill addresses a current problem in our state. The NCHSAA previously told me it has had fewer than 10 transgender student-athletes who petitioned to play sports based on their gender identity.

We'll see if this bill is reintroduced at a later date. Stay tuned.
FIVE MORE SPORTS BEGIN PLAYOFFS NEXT WEEK
In addition to the football state championships next week, five more sports begin postseason play. Here's the calendar:

Monday:
Boys & Girls Golf Regionals
Girls Soccer 1st Round
Softball 1st Round
Tuesday:
Boys & Girls Golf Regionals
Wednesday:
Girls Soccer 2nd Round
Softball 2nd Round
Thursday:
Football State Championships
Friday:
Football State Championships
Girls Soccer 3rd Round
Softball 3rd Round
Boys Tennis Regionals
Saturday:
Football State Championships
Boys Tennis Regionals
(If you have any ideas about how we can cover all of this stuff -- maybe cloning technology? -- let me know!)
SOFTBALL, GIRLS SOCCER BRACKETS COMING TOMORROW
Tomorrow is Seeding Saturday -- again! It feels like we have one of these every other week these days.

By tomorrow afternoon, we should have official state playoff brackets for NCHSAA softball and girls soccer. We will have coverage throughout the day of the bracket release. Download the HighSchoolOT app and we'll alert you when the preliminary and final brackets are released.

Here's what you can expect:
NCHSAA will release official final conference standings first thing Saturday morning. Schools will have an opportunity to report any errors.
After the deadline to report conference standings errors passes, the NCHSAA will begin to work on brackets.
Preliminary brackets will be released first. These are not final and can (and often do) change. These give schools a chance to report any errors or ask questions of the NCHSAA.
After the deadline for reporting errors in preliminary brackets passes, the NCHSAA will release finalized brackets. These brackets are official.
I've been updating our playoff projections for softball and girls soccer this week and you can expect multiple updates in the next 24 hours.
HSOT BOYS SOCCER ALL-STATE TEAMS RELEASED
Earlier this week, we released our all-state teams for boys soccer. These teams were selected by our staff, but we had input from boys soccer coaches and members of the media from across the state.

Our all-state team includes a 1st, 2nd, and 3rd team, as well as a list of honorable mentions.

Congratulations to all the players who made the cut!
| | The final sports season of the 2020-2021 school year started this week. Here's a look at our preseason rankings and some of the top athletes you should watch for. |
| --- | --- |
| | Heritage's girls soccer team defeated rival Wake Forest in overtime to claim the conference title and automatic bid to the 4A playoffs in the Northern Athletic Conference. |
| --- | --- |
| | Northwest Guilford's Emma Moberg completed a perfect game in a 15-0 win over High Point Central in four innings, racking up seven strikeouts. |
| --- | --- |
There's a lot to keep an eye on, isn't there?

Our focus at HighSchoolOT over the next week will be on playoff coverage. There's enough to go around. We'll have live scores from all playoffs, results, stories, highlights, interviews, and a lot more. I've said it a few times already, let me say it again though -- if you don't have the HighSchoolOT app downloaded yet, do it now. You'll want it during this busy time.

Here's a little insight into something we're working on. Remember the survey of athletic directors we conducted in February? We're in the middle of conducting a follow-up survey to cover all the other sports. There are some alarming early trends (but we do have a lot more data to collect, so this could change). It looks like girls sports have been impacted more than boys sports (though none have been spared). The trend of declining participation doesn't appear to be slowing despite more kids returning to in-person learning and life beginning to return to normal. That could be concerning for the future.

We will be releasing results of the survey in the near future, so stay tuned.

Good luck to all the teams competing tonight!

Nick Stevens
Thank you for reading the HighSchoolOT Newsletter this week. Do you have suggestions, comments, or concerns? You can email me any time at nstevens@wral.com.
| | Capitol Broadcasting Company PO Box 12000, Raleigh, NC 27606-2125 |
| --- | --- |
https://northside-jaxathletics.org