Game Summaries & Headlines
.
HSOT Weekly Newsletter Nov 19, 2021
It's been a very busy week in high school sports. The legislative drama around HB 91 appears to be over, as the bill now sits on the desk of Gov. Roy Cooper. But we've also got a lot of postseason play going on this week.

Happy Friday!

What a week it has been for high school sports this week. On Tuesday afternoon, the legislature released a new version of House Bill 91, which sought to change the way high school sports are administered in North Carolina. Just over 24 hours later, the bill had passed the Senate and House with bipartisan support and now sits on the desk of Gov. Roy Cooper.

The boys soccer regional championships were held on Tuesday night, and the state championships will happen tonight and all day tomorrow in Cary.

The football playoffs continue tonight as well. The third round will be played at higher seeds across NC and we'll have full coverage.

And there's a lot more, so let's get started...
🚨HB 91 IS CLOSE TO BECOMING LAW
For the better part of the year, there has been a lot of drama around the state legislature involving the N.C. High School Athletic Association, but that drama -- at least as it involves lawmakers -- appears to be coming to an end.

A bill that once sought to completely dismantle the NCHSAA was rewritten and is much less pointed, but it will present major changes for high school sports in our state. The NCHSAA will be allowed to continue operating -- but it will have to reach an agreement on a memorandum of understanding with the State Board of Education, agree to follow a number of unspecified rules (part of the negotiation with the SBOE), sign agreements with every member school, and renew an agreement at a minimum of every four years. introduced in the Senate on Tuesday afternoon, then passed with bipartisan support on Wednesday afternoon. It immediately went to the House, which also passed it with bipartisan support hours later.

Now, HB 91 is with Gov. Cooper. He will have to sign or veto the bill. Given that it had bipartisan support in both the House and Senate, and that the bill was negotiated with members of Cooper's staff, the State Board of Education, and the NCHSAA (which has come out publicly and said it will not oppose the bill), most people expect Cooper to sign it. I've reached out to Cooper's staff to see if he will comment on the bill, but so far we have not heard back.
🤷 WHAT DOES HB 91 MEAN FOR ATHLETES, COACHES & SCHOOLS?
The honest answer to this question is that we don't really know. Why? Because the bill leaves most of the specifics up to the State Board of Education.

HB 91 spells out certain areas that the SBOE must address within a memorandum of understanding -- things like eligibility, gameplay, appeals, finances, and many other topics -- but it also gives the board the authority to delegate most of those items to a designated non-profit, like the NCHSAA.

There are some things in the bill that will cause some... interesting situations. For one, if the NCHSAA (or another non-profit administering high school athletics) creates a rule that the State Board of Education doesn't like, the board has the authority to strike down the rule with a simple majority vote. For over 100 years, the NCHSAA has been a member-run organization, this limits the members' ability to govern themselves, and depending on how the State Board of Education uses this power, it could be quite noticeable.

One of the interesting things about the new version of HB 91 is what is not in it:
There is no specific mention about the endowment fund the NCHSAA has, or how much wealth a non-profit can accumulate. These were two big topics during the legislative investigation into the NCHSAA.
Nothing is in the bill to spell out how charter and parochial schools should be handled. In fact, parochial/private schools are not mentioned at all, but it doesn't say that the new organization is exclusive to public schools.
There is language about creating a demerit system for rules violations, and it doesn't mention using fines as a penalty, but it also doesn't have any language that bans fines. This was another sticking point for some of the lawmakers.
Aside from requiring the Commissioner of Insurance to provide a catastrophic insurance plan for schools to purchase, there is no mention about preferred vendors. This was another issue for some lawmakers, who felt the preferred vendors were forced upon schools.
No language exists about the video and audio rights of games. During hearings, some lawmakers expressed concern that the NCHSAA believed it owned the rights to that material.
There are no restrictions on corporate sponsors, another item that lawmakers tried to restrict in earlier versions of the bill.
It is possible that all or some of these items could be addressed by the State Board of Education through policy or through a memorandum of understanding with the NCHSAA. Which leads me to the next point... while the legislative drama may be over, the story is not. We will have to follow the progress of an agreement between the NCHSAA and the state board, and then we'll do this all over again in a few years when that agreement expires.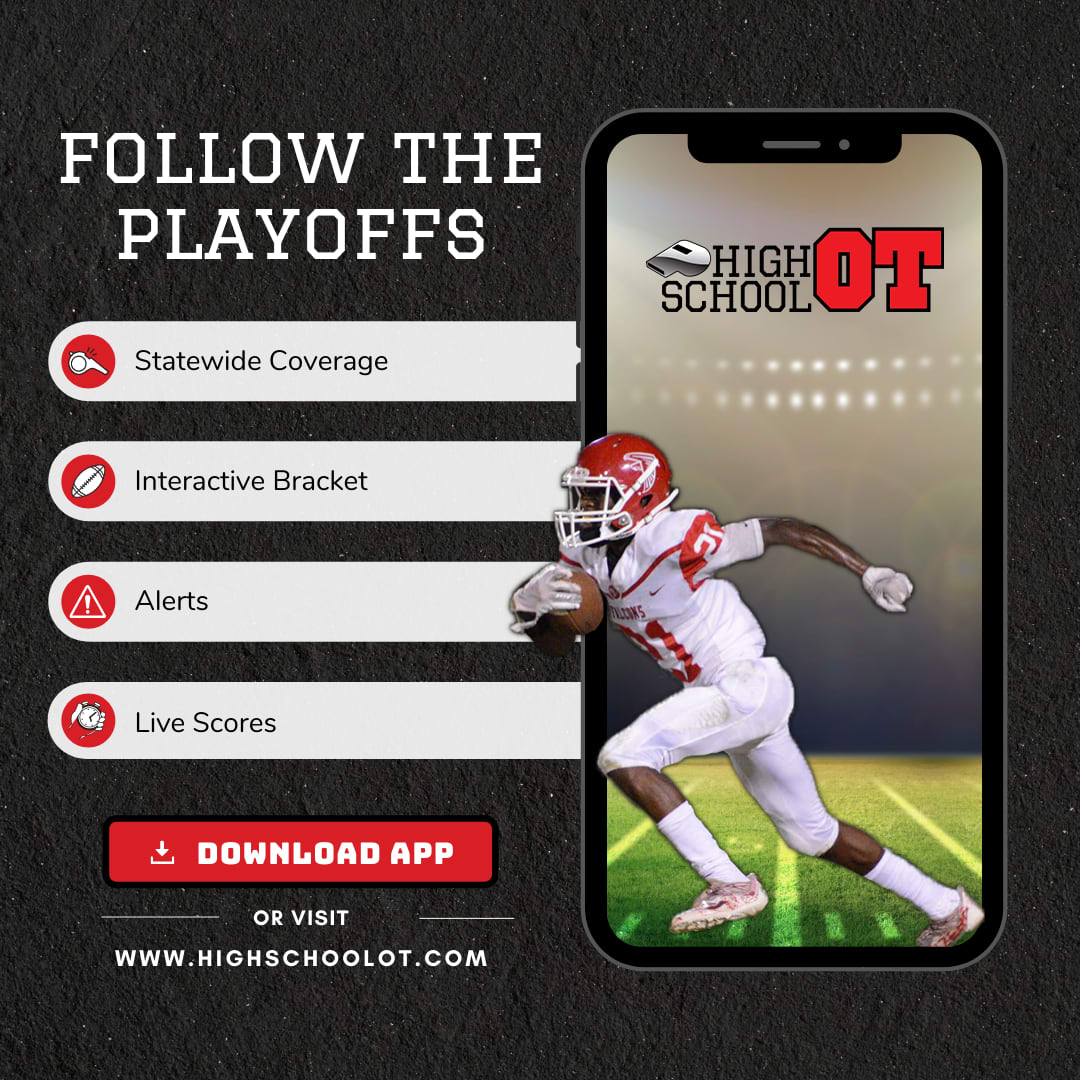 ⚽🏆SOCCER STATE CHAMPIONSHIPS START TONIGHT
The next round of fall sports state championships will take place this weekend at the WakeMed Soccer Park in Cary. The boys soccer state championships get started tonight at 7 p.m., then there will be three games on Saturday. We will have full coverage of all four games on HighSchoolOT.com and the free HighSchoolOT app (which you should download right now).

Here's the schedule for the weekend:

Friday:
7:00 PM - Western Alamance vs. Hickory (3A)
Saturday:
11:00 AM - Voyager Academy vs. Christ the King (1A)
2:30 PM - Greene Central vs. Shelby (2A)
6:00 PM - New Hanover vs. Hough (4A)
If you're planning to go to one (or more) of the games, consider bringing a chair. The games are at Koka Booth Stadium, which is not the big stadium at WakeMed Soccer Park. Seating is limited, and hopefully there will be large crowds there to watch!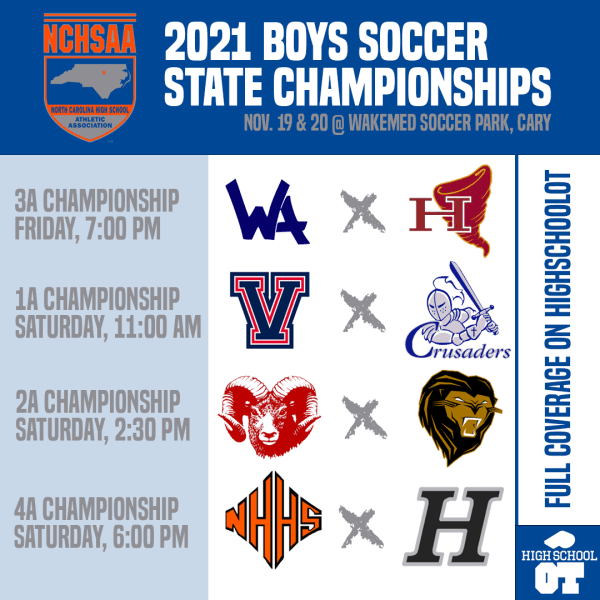 ⚽NEW HANOVER SENIOR SETS SCHOOL RECORD IN REGIONALS
I made the trip to Wilmington on Tuesday for the 4A eastern regional championship. New Hanover hosted Cardinal Gibbons. The Wildcats were unbeaten, but Cardinal Gibbons was the only team that tied them this season.

Senior Aidan Payne made sure there would not be a repeat performance. After scoring one goal in the first half, he scored three more in the second half to break a 1-1 halftime tie.

His performance was noteworthy itself, but with his first goal of the night, Payne set the school record for most goals in a season with 49. Going into tomorrow's state championship game against Hough, he has scored a total of 52 goals this fall.
🏈FOOTBALL THIRD ROUND SCHEDULED FOR TONIGHT
Soccer isn't the only sport with postseason action tonight. The third round of the football playoffs is scheduled for tonight as well. We will -- of course -- have this all covered too.
🏈CLEVELAND RB OMARION HAMPTON IS AMONG THE BEST
As Omarion Hampton was on his way to scoring seven touchdowns last week against Laney, I got to thinking about how he may stack up against some of the best running backs we've seen come through North Carolina in the last decade or so... so I did some research.

Here are Hampton's stats through 11 games this fall...
135 carries for 1,710 yards & 36 touchdowns
12.7 yards per carry; 155.5 yards per game
11 receptions for 272 yards & 3 touchdowns
1 punt return for a touchdown
These numbers stack up quite well when you compare them with big names like Todd Gurley (Tarboro), Nyheim Hines (Garner), Bryce Love (Wake Forest), Zamir White (Scotland), Javonte Williams (Wallace-Rose Hill), and many others. Check it out for yourself.
🏃HSOT ALL-STATE CROSS COUNTRY TEAMS RELEASED
Our postseason awards continue to roll out. Yesterday we released our HSOT All-State Cross Country Team for boys & girls. Each team is made up of a 1st, 2nd, and 3rd team with 10 runners on each, as well as 5 runners who made honorable mention.

The cross country all-state teams are determined using a mathematical formula based on times at championship meets.

Check out the full team here.
🏆NOMINATE NOW FOR HSOT HONORS!
HighSchoolOT Honors nominations are open for fall sports! You can submit your nominations for individual sports, games, spirit, and elite awards right now. Be sure to include details about your submission.

Fall sports nominations will close at noon on Monday, Dec. 13.

Make your nominations today at HighSchoolOT.com/Honors.

HighSchoolOT Honors is like our version of the ESPY awards. We recognize the best athletes in every sanctioned sport, as well as other categories like Male & Female Athletes of the Year, Coaches of the Year, Game of the Year, and the Stuart Scott Courage Award. We hope to return to an in-person event this school year -- tentatively scheduled for mid-June at the Duke Energy Center for the Performing Arts in Downtown Raleigh. Voting for the finalists will happen in April.
| | There won't be a game this year due to COVID-19, but rosters have been released for the Shrine Bowl. |
| --- | --- |
| | Indya Nivar, a 5-star player at Apex Friendship who averaged 23.9 points and 8.2 rebounds last season, announced her commitment to Stanford this week. |
| --- | --- |
There is a lot to pay attention to in high school sports these days. Tonight and tomorrow our full attention will be on the football and boys soccer playoffs. If you haven't already, download the free HSOT app and you won't miss ANYTHING over the next two days.

We will also continue monitoring HB 91. Will Gov. Cooper sign it into law as many expect? And if so, when? If it becomes law, when do the NCHSAA & State Board of Education reach an agreement? And what are the details of that agreement? There are a lot of unanswered questions. We will continue covering this story in-depth!

Believe it or not, the basketball season gets underway next week. On Sunday, we'll be releasing tons of preview content for the season, including our preseason rankings. Then next week we will have coverage of actual games!

You won't hear from me again until after Thanksgiving, so I hope everyone has a great holiday, eats some great food, enjoys some NFL football, and returns next Friday for the fourth round of the state playoffs!

Enjoy your weekend and happy Thanksgiving!

-Nick Stevens
Thank you for reading the HighSchoolOT Newsletter this week. Do you have suggestions, comments, or concerns? You can email me any time at nstevens@wral.com.
https://northside-jaxathletics.org